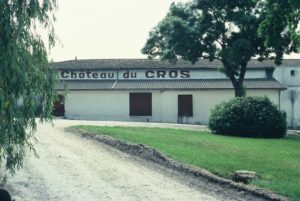 The vineyard of Château du Cros grows on the hill-slopes right bank of the Garonne River, 40 km South of Bordeaux on argilo-calcareous soil. (Limestone subsoil, chalky clay topsoil).
Size of the vineyard : 7 ha
A high planting density : 5500 vines/hectare.
Average age of the vines : 35 years
Production:
Average yield : 59hl / ha
Volume : 35 000 bottles
Vinification and maceration :
– Mechanical harvest
– Pre-fermentation maceration
– Juices ferment in stainless steel tanks.
– Barrel ageing in French oak : 12 months.
0% new oak.
In Loupiac, it is the nature of the soils of the Château du Cros that gives these liqueur wines finesse and liveliness.
The first 50 centimeters are clay-limestone then the roots penetrate the friable limestone providing a regular water supply.